False Kiva Reality
This past week the National Park Service (NPS) announced that they have closed access to False Kiva, an archaeological site in the Island-in-the-Sky District of Canyonlands National Park. The closure stems from years of abuse that the site has endured from run-of-mill knuckleheads, hikers, well-intentioned photographers simply wanting to "repeat or clone" for themselves a photograph that photographer Tom Till first made several decades ago.
I, for one, totally support the move, not only because of the aggregate damage being done, but also for all those photographers who flock there.

I remember going to False Kiva in the early 1980s with my friends Glen and Mr. Till. Tom had a view camera and I had a 35mm. Since it was the 3 of us, it's very likely that Glen had been there before. Tom's image became the image standard for this place. It was published widely . . . . . and I don't fault him one bit. And then people started to figure out how to get there. Landmarks help you triangulate. I've actually encountered people with calendars or Xerox copies of an image featuring False Kiva walking across and damaging the natural resources to get to the cultural resource. Not good! A while back the NPS decided that there was so much visitation to the site that they had to establish a "presence" there to let people know that eyes might be looking. That obviously did not intimidate some folks who would camp and evidently "party" in the alcove, move rocks and generally disrupt the environment. I'm glad it's closed and I hope anyone caught violating the closure is fined heavily.
But that's not my priority reason for supporting the closure. My real reason has to do with landscape photography and personal vision.
There is a problem with landscape icons. Usually, somewhere back in time, a pro like David Muench, Jack Dykinga, Guy Tal or the like finds an amazing composition featuring a well-known landmark such as the Mittens of Monument Valley, Delicate Arch, etc. makes the photo, publishes it and then the world descends on that spot to essentially make THAT photo. False Kiva is one of several Tom Till's iconic area shots. Like a few others in the area the image was first made years ago and has simply been copied ever since.
Back in 1972, David Hiser first photographed Turret Arch through North Window and Mesa Arch at dawn with the beautiful under-glow. People flock to these spots now. You practically have to take a number and wait in line at Mesa Arch.

Basically all you do is go to the spot, found via GPS, image downloads and other means, set up, and wait for weather and lighting to play her part. The essential composition has already been established BY SOMEONE BEFORE YOU! All you do is tweak it a bit and wait, maybe change focal length, over-slide your saturation or make it Black and White.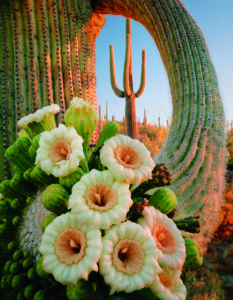 It also happens to much lesser-known landforms as is the case with one of Jack's iconic photos with a certain, very certain, curved branch saguaro in bloom. People go looking for it and miss the beauty all around them. Archaeological sites are particularly prone to this behavior as excess visitation can lead to very real damage. I've seen published (but not located) images of my own cloned perfectly. It makes me wonder if the person spends more time looking at a pirated print of my shot to line things up than he does in actual communion with the place.
The thing is, IT'S NOT YOUR SHOT! You are NOT BEING CREATIVE! Sorry, but not. You are not performing an original act. You're cloning.
Yes, there is something to learn from cloning a fine composition first made by SOMEONE else, just like many painters paint like a chosen master for a while to learn their technique, their vision, IN ORDER TO ADVANCE THEIR OWN. However, most of these painters treat such paintings, however well done, as an exercise, not as a finished piece to call their own. (Unless they make their living at forging!)


It does not seem to be the same for landscape photography. I type False Kiva into my browser and there appear pages of imagery, essentially the same composition, as well as a few maps and a video with directions. At one point in my career I would have been happy to have a few of these to call my own. I probably DO HAVE a few that are very similar, but the thing is, they never felt like a true, personal image of mine since my friend Tom made that first one, and so I let that place go and went looking for something I could call my own.
That is why I applaud the NPS decision to close the site. Photographers! Be free of the chains of cloning! Go back up the trail, out onto the land and be original!
(Note: I'm really speaking to those photographers who want to develop and be known for your personal artistic vision. There are those among us who simply "research" other people's work, find the locations and then seek to fill their portfolios with cloned images in order to perhaps gain some sales and unearned notoriety. Don't get me started on these ……….hmmmmm…….. how nasty to get?……..these imposters!)